You are here
Back to top
Animal Farm: The Graphic Novel (Hardcover)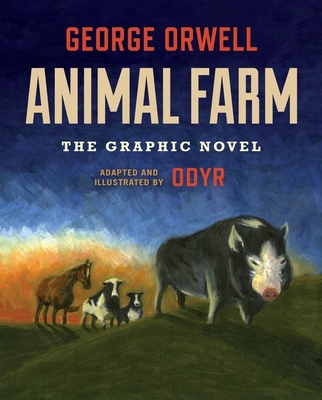 $22.00
Usually Ships in 1-5 Days
Description
---
A beautiful graphic adaptation of George Orwell's timeless and timely allegorical novel.

"All animals are equal, but some animals are more equal than others."

In 1945, George Orwell, called "the conscience of his generation," created an enduring, devastating story of new tyranny replacing old, and power corrupting even the noblest of causes. Today it is all too clear that Orwell's masterpiece is still fiercely relevant wherever cults of personality thrive, truths are twisted by those in power, and freedom is under attack. Now, in this fully authorized edition, the artist Odyr translates the world and message of Animal Farm into a gorgeously imagined graphic novel.

Old Major, Napoleon, Squealer, Snowball, Boxer, and all the animals of Animal Farm come to life in this newly envisaged classic. From his individual brushstrokes to the freedom of his page design, Odyr's adaptation seamlessly moves between satire and fable and will appeal to all ages, just as Orwell intended.
About the Author
---
GEORGE ORWELL (1903–1950) was born in India and served with the Imperial Police in Burma before joining the Republican Army in the Spanish Civil War. Orwell was the author of six novels as well as numerous essays and nonfiction works.
ODYR is a Brazilian graphic novelist, cartoonist, and painter. He is the co-author of the graphic novel Guadalupe, written with poet Angélica Freitas and published by Companhia das Letras. He also published Copacabana, co-written with scriptwriter Lobo and published in Portugal and France.
 
Praise For…
---
"Brazilian graphic novelist Odyr's 'fully authorized' adaptation (in accordance with The Estate of Sonia Brownell Orwell) of Orwell's 1945 classic is affecting example...alchemizing Orwell's period writing into a timeless, immediately terrifying warning about the dangers of abusive power."--Booklist

"[Odyr's] rich brushstrokes do much to enhance the experience of Orwell's brand of satire."--New York Journal of Books
Bookmark Contest -now through May 31st
Every year during the month of May we have a summer bookmark contest. Kids and adults design a bookmark of a book they love. We have guest judges choose a winner and runner-up in each of five categories/age groups - then we print 100 each of the winning bookmarks.
The five winners get a $25 gift certificate to Byrd's Books and 25 of their bookmark to give away. We keep the rest. Honorable mentions get a $10 gift certificate.
We use our copies of the bookmarks to give out all summer long!
We are going to start the contest now and go through the month of May, so you have plenty of time. There is one submission per person, and teachers may use them with students, we just need the completed entries by May 31st. Instructions for submitting them are on the entry form. We cannot wait to see your favorite books in art!