You are here
Back to top
The Girl Who Lived Twice: A Lisbeth Salander novel, continuing Stieg Larsson's Millennium Series (Hardcover)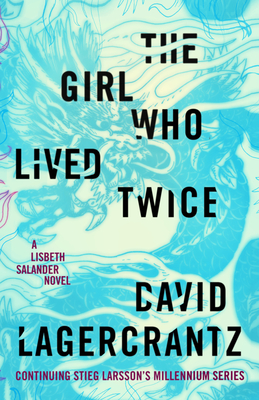 $27.95
Description
---
The sixth Lisbeth Salander story in the Millennium Series--the crime-fiction phenomenon that has sold more than 90 million copies worldwide.

Mikael Blomkvist is trying to reach Lisbeth Salander—the fierce, unstoppable girl with the dragon tattoo. He needs her help unraveling the identity of a man who died with Blomkvist's phone number in his pocket—a man who does not exist in any official records and whose garbled last words hinted at knowledge that would be dangerous to important people. But Lisbeth has disappeared. She's sold her apartment in Stockholm. She's gone dark. She's told no one where she is. And no one is aware that at long last she's got her primal enemy, her twin sister, Camilla, squarely in her sights. In the end, it will be Blomkvist--in a moment of unimaginable self-sacrifice--who will make it possible for Lisbeth to face the most important battle of her life, and, finally, to put her past to rest.
About the Author
---
DAVID LAGERCRANTZ is an acclaimed Swedish author and journalist. He is the author of three books in the Millennium series: The Girl who in the Spider's Web, The Girl Who Takes an Eye for an Eye, and The Girl Who Lived Twice.  He is the coauthor of numerous biographies (including the internationally best-selling memoir I Am Zlatan Ibrahimovic) and the acclaimed novel Fall of Man in Wilmslow, on the death and life of Alan Turing.
Praise For…
---
"A murder mystery inside an espionage conspiracy wrapped in an action thriller—a unique concoction that should leave Salander's legion of followers clamoring for more." –The Wall Street Journal
 
"A quest for revenge and atonement that plumbs the depths of Russian troll factories and scales the heights of Mount Everest." –TIME
Bookmark Contest -now through May 31st
Every year during the month of May we have a summer bookmark contest. Kids and adults design a bookmark of a book they love. We have guest judges choose a winner and runner-up in each of five categories/age groups - then we print 100 each of the winning bookmarks.
The five winners get a $25 gift certificate to Byrd's Books and 25 of their bookmark to give away. We keep the rest. Honorable mentions get a $10 gift certificate.
We use our copies of the bookmarks to give out all summer long!
We are going to start the contest now and go through the month of May, so you have plenty of time. There is one submission per person, and teachers may use them with students, we just need the completed entries by May 31st. Instructions for submitting them are on the entry form. We cannot wait to see your favorite books in art!