You are here
Back to top
Olive, Again: A Novel (Hardcover)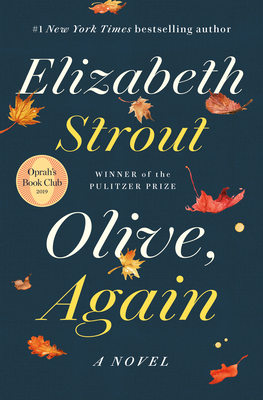 $27.00
October 2019 Indie Next List
---
"Thank goodness Elizabeth Strout decided to return for another round with one of the most beloved, maddening, confounding, and compelling characters I have ever had the pleasure of meeting. Readers will delight in the fact that Olive, while forging new relationships and puzzling over long-existing ones, remains the crazy, complicated family member you just can'tquit. Add in spareyet beautifully rendered prose about the rugged, breathtaking state of Maine and you've got a gem of a book, one that leaves you rooting for Olive, despite her numerous shortcomings, as she stumbles through love, friendship, loss, and what it means to growold. Strout, through Olive, reminds us that it's a messy business being human, but it's a privilege to be along for the ride."
— Page Berger, Barrett Bookstore, Darien, CT
Description
---
NEW YORK TIMES BESTSELLER • OPRAH'S BOOK CLUB PICK • Pulitzer Prize winner Elizabeth Strout continues the life of her beloved Olive Kitteridge, a character who has captured the imaginations of millions.

"Strout managed to make me love this strange woman I'd never met, who I knew nothing about. What a terrific writer she is."—Zadie Smith, The Guardian

"Just as wonderful as the original . . . Olive, Again poignantly reminds us that empathy, a requirement for love, helps make life 'not unhappy.'"—NPR 

NAMED ONE OF THE TEN BEST BOOKS OF THE YEAR BY PEOPLE AND ONE OF THE BEST BOOKS OF THE YEAR BY Time • Vogue • NPR • The Washington Post • Chicago Tribune • Vanity Fair • Entertainment Weekly • BuzzFeed • Esquire • Real Simple • Good Housekeeping • The New York Public Library • The Guardian • Evening Standard • Kirkus Reviews • Publishers Weekly • BookPage
 
Prickly, wry, resistant to change yet ruthlessly honest and deeply empathetic, Olive Kitteridge is "a compelling life force" (San Francisco Chronicle). The New Yorker has said that Elizabeth Strout "animates the ordinary with an astonishing force," and she has never done so more clearly than in these pages, where the iconic Olive struggles to understand not only herself and her own life but the lives of those around her in the town of Crosby, Maine. Whether with a teenager coming to terms with the loss of her father, a young woman about to give birth during a hilariously inopportune moment, a nurse who confesses a secret high school crush, or a lawyer who struggles with an inheritance she does not want to accept, the unforgettable Olive will continue to startle us, to move us, and to inspire us—in Strout's words—"to bear the burden of the mystery with as much grace as we can."

Praise for Olive, Again

"Olive is a brilliant creation not only because of her eternal cantankerousness but because she's as brutally candid with herself about her shortcomings as she is with others. Her honesty makes people strangely willing to confide in her, and the raw power of Ms. Strout's writing comes from these unvarnished exchanges, in which characters reveal themselves in all of their sadness and badness and confusion. . . . The great, terrible mess of living is spilled out across the pages of this moving book. Ms. Strout may not have any answers for it, but she isn't afraid of it either."—The Wall Street Journal
About the Author
---
Elizabeth Strout is the #1 New York Times bestselling author of Olive Kitteridge, winner of the Pulitzer Prize; Olive, Again, an Oprah's Book Club pick; Anything Is Possible, winner of the Story Prize; My Name is Lucy Barton, longlisted for the Man Booker Prize; The Burgess Boys, named one of the best books of the year by The Washington Post and NPR; Abide with Me, a national bestseller; and Amy and Isabelle, winner of the Los Angeles Times Art Seidenbaum Award for First Fiction and the Chicago Tribune Heartland Prize. She has also been a finalist for the National Book Critics Circle Award, the PEN/Faulkner Award for Fiction, the International Dublin Literary Award, and the Orange Prize. Her short stories have been published in a number of magazines, including The New Yorker and O: The Oprah Magazine. Elizabeth Strout lives in New York City.
Praise For…
---
"In the first chapter of Elizabeth Strout's Olive, Again . . . the man who will become Olive's second husband writes, 'Dear Olive Kitteridge, I have missed you and if you would see fit to call me or email me or see me, I would like that very much.' Jack Kennison might be speaking for fans of Strout's Pulitzer Prize–winning Olive Kitteridge, which inspired an Emmy-winning HBO mini-series and now this sequel. However, like its iconic heroine, this book is capable of standing alone. . . . [Olive] is as indelible as the ink on Jack Kennison's paper. If you know Olive, you know how she would respond to the hoopla: with an eye roll and an 'Oh Godfrey.' It's good to have her back."—Elisabeth Egan, The New York Times Book Review

"Strout dwells with uncanny immediacy inside the minds and hearts of a dazzling range of ages: the young (with their confusion, wonder, awakening sexuality), the middle-aged (envy, striving, compromise), the old (failing bodies, societal shunning, late revelations). . . . I have long and deeply admired all of Strout's work, but Olive, Again transcends and triumphs. The naked pain, dignity, wit and courage these stories consistently embody fill us with a steady, wrought comfort."—The Washington Post

"In thirteen poignant interconnected stories, Strout follows the cantankerous, truth-telling Mainer as she ages, experiencing a joyful second marriage and the evolution of her difficult relationship with her son. In her blunt yet compassionate way, Olive grapples with loneliness, infidelity, mortality and the question of whether we can ever really know someone—ourselves included."—People (Book of the Week)

"A magnificent achievement on its own terms . . . We see Olive acquiring a view of herself, and coming to recognize as valuable the other people who grant that vision. In the process, she shares in the alchemy that she continues to perform for us and elicits our unexpected, abiding love."—The Boston Globe

"Strout has created one of those rare characters . . . so vivid and humorous that they seem to take on a life independent of the story framing them."—The Guardian

"The lovable, irascible Olive Kitteridge is back. . . . In this novel—set against the backdrop of a rapidly changing Maine, ravaged by opioid addiction and economic neglect—Strout wields great pathos out of life and all its attendant tragedies."—BuzzFeed

"Strout aims the spotlight on her wry heroine and the characters of Crosby, Maine, in another book that's sure to have you flipping pages long into the night."—Bustle

"Olive, Again returns to Olive and the town of Crosby to do what Strout does best: find meaning in the tiniest and most mundane details of everyday life."—Vox

"Strout has said that she doesn't know why readers like Olive so much, except that she is complicated, like all of us. But I think we all have had an Olive in our lives whom we never got to know. Mine was a teacher named Gertrude. It is Strout's genius to reveal them to us in all their idiosyncratic glory. Olive, again? Oh yes, I do think so."—Ann Treneman, The Times (UK)
Bookmark Contest -now through May 31st
Every year during the month of May we have a summer bookmark contest. Kids and adults design a bookmark of a book they love. We have guest judges choose a winner and runner-up in each of five categories/age groups - then we print 100 each of the winning bookmarks.
The five winners get a $25 gift certificate to Byrd's Books and 25 of their bookmark to give away. We keep the rest. Honorable mentions get a $10 gift certificate.
We use our copies of the bookmarks to give out all summer long!
We are going to start the contest now and go through the month of May, so you have plenty of time. There is one submission per person, and teachers may use them with students, we just need the completed entries by May 31st. Instructions for submitting them are on the entry form. We cannot wait to see your favorite books in art!