You are here
Back to top
Sybil Ludington: Revolutionary War Rider (Based on a True Story) (Paperback)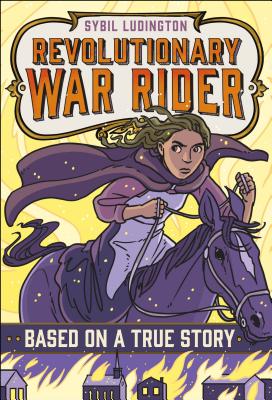 $8.99
Usually Ships in 1-5 Days
Description
---
Meet the brave girl whose midnight ride, like Paul Revere's, made her a hero of the American Revolution, in this middle grade historical fiction novel, part of the Based on a True Story series.
What would you do if your country was counting on you? If you had a message that only you could deliver? That's the story of sixteen-year-old Sybil Ludington's famous midnight ride.
In 1777, living in what is now New York, Sybil, her colonel father, and her family are Patriots, fighting against the British in the Revolutionary War. The British, however, are not the only enemy the Ludingtons' every acquaintance, every neighbor, has the potential to be loyal to the British crown. When British troops raid Danbury, Connecticut, it is up to Sybil to get the word to her father's men. Only two years after Paul Revere's fateful ride, Sybil leaps atop her horse and rides the whole night through, avoiding near brushes with danger and successfully warning the Regiment.
Sybil Ludington: Revolutionary War Rider by Karen Romano Young writing as E. F. Abbott, with illustrations by Clint Hansen. This title has Common Core connections.
The Based on a True Story books by E. F. Abbott are exciting historical fiction stories about real children who lived through extraordinary times in American History. Other books in the Based on a True Story series are Mary Jemison: Native American Captive, John Lincoln Clem: Civil War Drummer Boy, and Nettie and Nellie Crook: Orphan Train Sisters.
"Abbott does a fine job in creating the 18th-century world of the American Revolution. History teachers will delight in the thorough descriptions of rebel espionage strategies and the images of their coded messages. . . . This will make a solid addition to library collections, as there is a dearth of materials regarding the brave acts of females and young people during the Revolutionary War." —School Library Journal
About the Author
---
E. F. Abbott is a pseudonym for Kristin O'Donnell Tubb, author of Selling Hope and The 13th Sign. She and her family live in Tennessee.
Praise For…
---
"Abbott does a fine job in creating the 18th-century world of the American Revolution. History teachers will delight in the thorough descriptions of rebel espionage strategies and the images of their coded messages. . . . This will make a solid addition to library collections." —School Library Journal
"War becomes a family affair in this women-centered tale. . . . Readers will admire Sybil for her fortitude and appreciate the insight they gain into her time." —Booklist