You are here
Back to top
I Survived The Great Molasses Flood, 1919 (I Survived #19) (Paperback)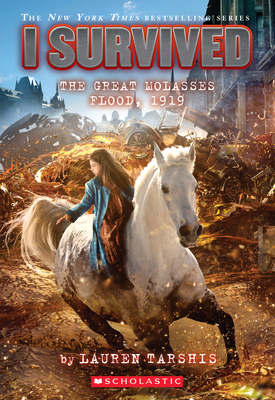 $5.99
Usually Ships in 1-5 Days
Description
---
One hundred years ago, a killer wave of molasses struck a crowded Boston neighborhood. Discover the story of this strange disaster in the next book in the New York Times bestselling I Survived series.
It's been four years since Carmen and Papa moved from Italy to Boston. Life here is exciting, but not always easy. And then there's the massive metal tank that rises up over their crowded North End neighborhood. The ugly tank, filled with sticky brown molasses, has always leaked. But nobody imagined that it could one day explode apart, sending a tsunami of molasses into the streets.
Caught in the flood, Carmen must fight for her life - the life that she and Papa built together in America. But where will she find the strength?

About the Author
---
Lauren Tarshis's New York Times bestselling I Survived series tells stories of young people and their resilience and strength in the midst of unimaginable disasters and times of turmoil. Lauren has brought her signature warmth and exhaustive research to topics such as the battle of D-Day, the American Revolution, Hurricane Katrina, the bombing of Pearl Harbor, and other world events. She lives in Connecticut with her family, and can be found online at laurentarshis.com.
Praise For…
---
Praise for I Survived the American Revolution, 1776:
"Tarshis successfully blends historical fact with an involving narrative." -- School Library Journal
Praise for I Survived the Destruction of Pompeii, AD 79:
"Tarshis serves up another gripping adventure... with the light-speed pacing and death-defying maneuvering fans have come to expect." -- Booklist
Praise for I Survived the Battle of Gettysburg, 1863:
"Informative and breathlessly paced." -- Kirkus Reviews
Praise for I Survived The Attacks of September 11, 2001:
"[Tarshis] crafts a dramatic, emotionally intense tale that takes account of 9/11's physical and emotional costs -- short- and long-term -- while ending on an upward beat." -- Kirkus Reviews
Praise for I Survived Hurricane Katrina, 2005:
"Expressive illustrations capture the drama of the storm and its aftermath, but the book's real power comes from its exploration of what it means to be a hero." --Booklist
Praise for I Survived the Shark Attacks of 1916:
"A gripping story that will hold the interest of reluctant readers." -- School Library Journal
Praise for I Survived the Sinking of the Titanic, 1912:
"The fast pace and intrinsically fascinating disaster story will keep readers turning the pages." --Kirkus Reviews
Bookmark Contest -now through May 31st
Every year during the month of May we have a summer bookmark contest. Kids and adults design a bookmark of a book they love. We have guest judges choose a winner and runner-up in each of five categories/age groups - then we print 100 each of the winning bookmarks.
The five winners get a $25 gift certificate to Byrd's Books and 25 of their bookmark to give away. We keep the rest. Honorable mentions get a $10 gift certificate.
We use our copies of the bookmarks to give out all summer long!
We are going to start the contest now and go through the month of May, so you have plenty of time. There is one submission per person, and teachers may use them with students, we just need the completed entries by May 31st. Instructions for submitting them are on the entry form. We cannot wait to see your favorite books in art!