You are here
Back to top
The Ballad of Songbirds and Snakes (A Hunger Games Novel) (Hardcover)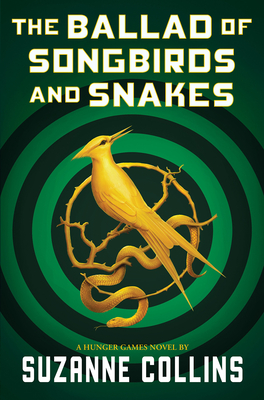 $27.99
Usually Ships in 1-5 Days
Description
---
Ambition will fuel him.
Competition will drive him.
But power has its price.
 
It is the morning of the reaping that will kick off the tenth annual Hunger Games. In the Capitol, eighteen-year-old Coriolanus Snow is preparing for his one shot at glory as a mentor in the Games. The once-mighty house of Snow has fallen on hard times, its fate hanging on the slender chance that Coriolanus will be able to outcharm, outwit, and outmaneuver his fellow students to mentor the winning tribute.
 
The odds are against him. He's been given the humiliating assignment of mentoring the female tribute from District 12, the lowest of the low. Their fates are now completely intertwined — every choice Coriolanus makes could lead to favor or failure, triumph or ruin. Inside the arena, it will be a fight to the death. Outside the arena, Coriolanus starts to feel for his doomed tribute . . . and must weigh his need to follow the rules against his desire to survive no matter what it takes.
About the Author
---
Suzanne Collins is the author of the bestselling Underland Chronicles series, which started with Gregor the Overlander. Her groundbreaking young adult novels, The Hunger Games, Catching Fire, and Mockingjay, were New York Times bestsellers, received wide praise, and were the basis for four popular films. Year of the Jungle, her picture book based on the year her father was deployed in Vietnam, was published in 2013 to great critical acclaim. To date, her books have been published in fifty-three languages around the world.
Bookmark Contest -now through May 31st
Every year during the month of May we have a summer bookmark contest. Kids and adults design a bookmark of a book they love. We have guest judges choose a winner and runner-up in each of five categories/age groups - then we print 100 each of the winning bookmarks.
The five winners get a $25 gift certificate to Byrd's Books and 25 of their bookmark to give away. We keep the rest. Honorable mentions get a $10 gift certificate.
We use our copies of the bookmarks to give out all summer long!
We are going to start the contest now and go through the month of May, so you have plenty of time. There is one submission per person, and teachers may use them with students, we just need the completed entries by May 31st. Instructions for submitting them are on the entry form. We cannot wait to see your favorite books in art!