You are here
Back to top
The Fire Keeper (A Storm Runner Novel, Book 2) (Hardcover)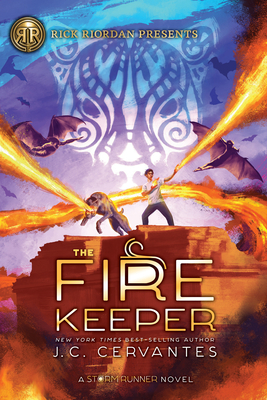 $16.99
Usually Ships in 1-5 Days
Description
---
Zane Obispo's new life on a beautiful secluded tropical island, complete with his family and closest friends, should be perfect. But he can't control his newfound fire skills yet (inherited from his father, the Maya god Hurakan); there's a painful rift between him and his dog ever since she became a hell hound; and he doesn't know what to do with his feelings for Brooks. One day he discovers that by writing the book about his misadventures with the Maya gods, he unintentionally put other godborn children at risk. Unless Zane can find the godborns before the gods do, they will be killed. To make matters worse, Zane learns that Hurakan is scheduled to be executed. Zane knows he must rescue him, no matter the cost. Can he accomplish both tasks without the gods detecting him, or will he end up a permanent resident of the underworld?
In this cleverly plotted sequel to The Storm Runner, the gang is back together again with spirited new characters, sneaky gods, Aztec royalty, unlikely alliances, and secrets darker than Zane could ever have imagined. Secrets that will change him forever.
About the Author
---
J. C. Cervantes (www.jennifercervantes.com) is the New York Times best-selling author of The Storm Runner, which Booklist called "a rip-roaring adventure" in a starred review. Her first novel, Tortilla Sun, was a 2010 New Voices pick by the American Booksellers Association and was named to Bank Street's 2011 Best Book List. Jen grew up in San Diego and was fascinated by stories about Maya gods and magic. Follow her on Facebook, Twitter: @jencerv, and Instagram:@authorjcervantes.
Praise For…
---
PRAISE FOR STORM RUNNER, THE

". . .the high stakes will grab kids who just want to turn the pages as quickly as possible. . . .Zane's incredibly appealing kid voice and wry internal interjections make him easy to root for."—Kirkus Reviews
Bookmark Contest -now through May 31st
Every year during the month of May we have a summer bookmark contest. Kids and adults design a bookmark of a book they love. We have guest judges choose a winner and runner-up in each of five categories/age groups - then we print 100 each of the winning bookmarks.
The five winners get a $25 gift certificate to Byrd's Books and 25 of their bookmark to give away. We keep the rest. Honorable mentions get a $10 gift certificate.
We use our copies of the bookmarks to give out all summer long!
We are going to start the contest now and go through the month of May, so you have plenty of time. There is one submission per person, and teachers may use them with students, we just need the completed entries by May 31st. Instructions for submitting them are on the entry form. We cannot wait to see your favorite books in art!