You are here
Back to top
Greek Myths and Mazes (Hardcover)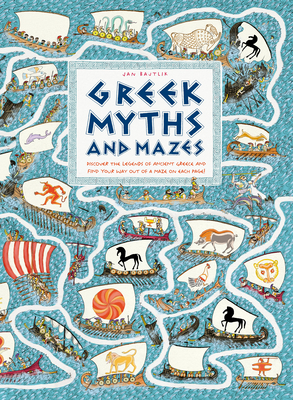 $35.00
Usually Ships in 1-5 Days
Description
---
In the vein of the best-selling Maps, this brilliant oversize maze book invites readers to get lost among the twists and turns of beloved Greek myths.

Discover the legendary labyrinths and mythologized mazes of ancient Greece in a beautifully designed book of paths and stories. Each turn of a page lands the reader in a new and exciting Greek classic through which to chart a path, learning along the way. From the twelve labors of Heracles to the labyrinth of the Minotaur, from the trials of Odysseus to the Colossus of Rhodes, illustrations present ancient stories as new and puzzling quests to complete. Packed with intricate details and plenty of information about the history and mythology of ancient Greece, this tome will astound explorers and inquisitive minds of all ages.
About the Author
---
Jan Bajtlik is a freelance graphic designer and illustrator currently working for Hermès Paris designing scarves, textiles, ceramics, wallpaper, typography, and window displays. He is the author of Our Car, written by J. M. Brum, which was a New York Times Best Illustrated Children's Book of the Year. Jan Bajtlik lives in Warsaw, Poland.
Praise For…
---
Unusual journeys await young explorers in an introduction to select ancient Greek myths, legends, monsters, and sites that have been mapped onto a series of mazes...Tangled tales and knotty challenges for veteran maze runners.
—Kirkus Reviews
Bookmark Contest -now through May 31st
Every year during the month of May we have a summer bookmark contest. Kids and adults design a bookmark of a book they love. We have guest judges choose a winner and runner-up in each of five categories/age groups - then we print 100 each of the winning bookmarks.
The five winners get a $25 gift certificate to Byrd's Books and 25 of their bookmark to give away. We keep the rest. Honorable mentions get a $10 gift certificate.
We use our copies of the bookmarks to give out all summer long!
We are going to start the contest now and go through the month of May, so you have plenty of time. There is one submission per person, and teachers may use them with students, we just need the completed entries by May 31st. Instructions for submitting them are on the entry form. We cannot wait to see your favorite books in art!