You are here
Back to top
The Friend Zone (Paperback)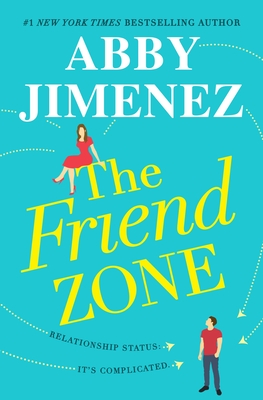 $14.99
Description
---
Fall in love with this hilarious and heartwarming romantic comedy that USA Today bestselling author LJ Shen calls "an absolute treat."
Instant USA Today bestseller!
Kristen Peterson doesn't do drama, will fight to the death for her friends, and has no room in her life for guys who just don't get her. She's also keeping a big secret: facing a medically necessary procedure that will make it impossible for her to have children.
Planning her best friend's wedding is bittersweet for Kristen -- especially when she meets the best man, Josh Copeland. He's funny, sexy, never offended by her mile-wide streak of sarcasm, and always one chicken enchilada ahead of her hangry. Even her dog, Stuntman Mike, adores him. The only catch: Josh wants a big family someday. Kristen knows he'd be better off with someone else, but as their attraction grows, it's harder and harder to keep him at arm's length.
The Friend Zone will have you laughing one moment and grabbing for tissues the next as it tackles the realities of infertility and loss with wit, heart, and a lot of sass.
"Your next favorite romantic comedy...The Friend Zone is that rare beach read with tons of heart that will make you laugh and cry in equal parts." ---PopSugar
Good Housekeeping Best New Books for Summer 2019
O, The Oprah Magazine Best Romance Novels of 2019
PopSugar Best Books of Summer 2019
Women's Health Best Romance Novels of 2019
Bookish Must Read Romance Summer 2019
SheReads Most Anticipated Romance Books of 2019
Women.com Most Highly Anticipated Books for Summer
Bookstr Ultimate Summer 2019 Reading Guide
Publishers Weekly Starred Review
Booklist Starred Review
Booklist Top 10 Romance Debuts of 2019
About the Author
---
Abby Jimenez is a Food Network champion, motivational speaker, and contemporary romance novelist living in Minnesota. Abby founded Nadia Cakes out of her home kitchen in 2007. The bakery has since gone on to open multiple locations in two states, won numerous Food Network competitions and amassed an international cult following. Abby has since turned her talents to penning novels. She loves a good book, coffee, doglets, and not leaving the house.
Praise For…
---
"Harnessing sass, heartfelt struggle, and unapologetic sexuality, Jimenez's debut is as hysterical as it is tear-jerking...Jimenez manages to fulfill all expectations for a romantic comedy while refusing to sacrifice nuance. Biting wit and laugh-out-loud moments take priority, but the novel remains subtle in its sentimentality and sneaks up on the reader with unanticipated depth. Readers who have wrestled with infertility will find Kristen's anxieties and sorrows deeply relatable."—Publishers Weekly, Starred Review

"Jimenez's dazzling debut is a brilliantly written romantic comedy that seamlessly toggles back and forth between scenes of laugh-out-loud, snarky wit and serious emotional issues without missing a beat, all the while delivering maximum reading satisfaction."—Booklist, Starred Review

"Jimenez tackles a myriad of issues in her debut and hits each one with depth and sensitivity. Kristen's take-no-prisoners attitude is smart and sassy and perfectly balanced by Josh's easygoing resourcefulness...An excellent debut that combines wit, humor, and emotional intensity."—Kirkus

"This romcom novel will have you feeling the falling-in-love autumn vibes."—Buzzfeed

"The Friend Zone is a deliciously hot, sweet debut full of banter I couldn't get enough of. I loved all the characters, from Kristen and Josh, to the supporting cast, and even Stuntman Mike. This book is an absolute treat."—L.J. Shen, USA Today bestselling author

"The Friend Zone gave me belly laughs, shook me up, and made me feel hopeful about love and the human strength of spirit. A romance for the ages!"—Tessa Bailey, New York Times bestselling author of Fix Her Up

"Your next favorite romantic comedy...The Friend Zone is that rare beach read with tons of heart that will make you laugh and cry in equal parts."—PopSugar

"You can expect to laugh and cry during this one."—Good Housekeeping

"The Friend Zone is heartbreaking, gut-wrenching, and emotional. Abby Jimenez wrote a difficult story line with sensitivity, heat, humor, banter, and unwavering friendship."—Harlequin Junkie, Top Pick

"The Friend Zone is a
beautiful tale of learning to accept the love you deserve and finding a path to
self-acceptance along the way....a zippy, instantly recognizable voice and fresh,
funny characters."—Entertainment Weekly

"This new romance novel will have you both laughing and crying throughout its entirety."—Women.com

"Zingy dialog, laugh-out-loud humor, and plenty of sass temper the heartbreak of infertility in this modern, well-grounded debut that is sure to satisfy."—Library Journal

"The Friend Zone is a laugh-out-loud, wickedly clever book that sneaks up on you with a cathartic emotional payoff."—Jenny Holiday, author of Three Little Words

"This novel doesn't shy away from anything - it's fiercely loving all the way to the HEA."—NPR

"A
debut novel that has it all-tears, sarcastic humor, romance and the
heartbreaking issue of infertility."—Greenville News

"I think I've found a new favorite contemporary
romance novel with The Friend Zone. ...This book made me laugh
and cry, and it filled my heart with so many emotions. ...I'll
be recommending this book to everyone."—Bookish